QuickLinks Golf Course Software
Make golf course Safety and Environmental Management fast and easy with
QuickLinks by GrowEQ
The Safety and Environmental Management System developed for golf course superintendents, in consultation with them.
Customised policies and procedures, along with accurate record keeping which is updated in real time by you and your staff, from anywhere!
Want to spend more of your time on the golf course and less on paperwork? Email us here.
You told us what you need, now we've delivered:
link all your management tasks in one easy-to-use program.
Matt Murphy from GrowEQ tells the Quicklinks story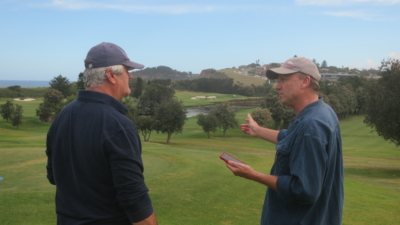 How QuickLinks was developed
How did GrowEQ come to develop the QuickLinks system?
Matt: Golf Club Superintendents told us there was a need for a system to help them comply with their safety, legal and environmental responsibilities. Golf courses are a relatively high-risk workplace, so the Superintendents wanted a way to make sure that risk was being dealt with and they wouldn't be subject to litigation.
We sat down with some senior Superintendents and developed The Golf Code, which details the best way for Golf Courses to meet all their responsibilities and decrease the risks. The next step was to develop a method for Golf Course Superintendents to comply with The Golf Code, so QuickLinks was born.
So GrowEQ has been there right through the process. But who are GrowEQ?
Matt: GrowEQ is a company that specialises in developing Management Systems, as well as working in the fields of Process Improvement and Knowledge Management. Our expertise in ISO certification was invaluable in the genesis of The Golf Code, and then QuickLinks. Director Liz Murphy is one of the most experienced Management Systems consultants in NSW.
How does The Golf Code work?
Matt: The Golf Code is a framework from which you can build a Management System for your golf course that will demonstrate your commitment to health and safety, and the environment. If you comply with The Golf Code, you can receive certification — which means that your golf course meets internationally recognised health, safety and environmental standards. So you can feel confident that you're meeting all your obligations if you're certified to The Golf Code. That peace of mind is invaluable.
How does QuickLinks help in gaining certification to The Golf Code?
Matt: QuickLinks is the name of the Management System that will help you become certified. GrowEQ will tailor it to fit your circumstances, with all the policies, procedures and other documentation required to get your golf course on the road to certification. The QuickLinks software system stores all your information on your computer, and GrowEQ even makes all the updates necessary to keep your system current — without you lifting a finger.
So it's a software system. What about someone like me who's a bit scared of computers?
Matt: We designed it just for you! QuickLinks is all about simplicity. Because it was developed in consultation with Golf Course Superintendents, it does everything that a Golf Course Superintendent wants it to do, without any fuss. We soon worked out that Superintendents don't want to spend their time in front of a computer screen, so we made sure QuickLinks get things done with the fewest keystrokes possible!
Can QuickLinks do more than just manage my health, safety and environmental system?
Matt: Yes. QuickLinks can manage your entire golf course. It's designed to cover all aspects of your job as a Golf Course Superintendent, including staff management, chemical logs, equipment maintenance… it can do the lot.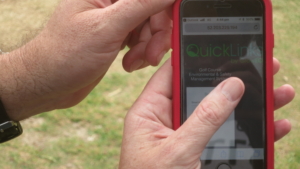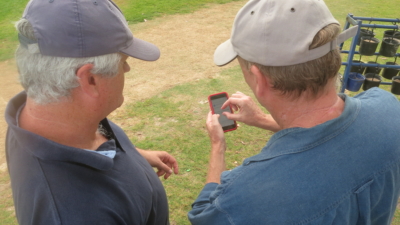 How to use QuickLinks
What are some specific ways QuickLinks can help Golf Course Superintendents?
Matt: One of the features that Supers really like is the ability to assign tasks to their staff from anywhere. QuickLinks can be accessed on your smart phone, and also on your staff's smart phone. So you can assign a task to one of your employees who's out on the course and he'll receive it as an email on his phone. Even better, you can do that from anywhere. So even if you're away from the course on other business, you can still quickly and easily communicate the job with your staff. Then when he finishes the job, you'll see an acknowledgement on your phone.
So QuickLinks is a communication tool?
Matt: Yes it is, but it's much more than that. One of the other features that's very popular is the chemicals log. We all know many products are needed to keep a golf courses in shape – fertilisers, pesticides – and we all know that records need to be kept of those chemicals. No-one likes it, but that's what has to be done, and it usually involves a whole lot of paperwork or multiple computer programs being filled in. Now QuickLinks does it all. In fact you can assign, for example, a fertilising job to one of your staff via QuickLinks on your phone, direct to your staff member's phone. When he finishes the job, he can record the usage of fertiliser on his phone. The fertiliser inventory is automatically updated. There's no double entry or calculations to perform.
How does QuickLinks perform all the communication to staff?
Matt: QuickLinks is a cloud based system. That means it lives in the internet, so to speak. So you and your staff member can log onto the same system from different devices, just like two people in different locations can browse the same website simultaneously. But you don't need to worry about getting your head around the technical detail — some other smart person has already worked it out for you. You don't have to understand how an aeroplane flies to catch one from Sydney to Melbourne, do you?
What are some of the staff management features in QuickLinks?
Matt: I think this is something you'll really like. All bosses hate dealing with staff issues, right? We just wish they would go away, but sometimes they don't. Now QuickLinks helps you to avoid staff problems in the first place, and resolve them quickly when they do occur.
One of the most important features of The Golf Code is that it spells out the responsibilities and obligations of staff members, which they must understand and sign off on. This information is stored in QuickLinks.
Let's say, for example, you have a staff member who you suspect has a substance abuse problem. The policies and procedures that GrowEQ has put in to QuickLinks means you have an explicitly written pathway to investigate and solve this staff problem, and you know that the staff member has signed off on the agreement to abide by your policies. Now you can go to the staff member, confident in your approach, and deal with the problem.
How many workplaces don't deal with these sorts of issues, because they're too hard? I can't pretend that QuickLinks makes the problem easy, but it does make dealing with it far more straightforward, and gives you confidence that you are doing the right thing. So QuickLinks is a great support tool for bosses.
How is the QuickLinks system tailored to the requirements of different golf courses?
Matt: There's no "one size fits all," so we write the system to suit your course — you have the final say about what goes into it. We can also write systems that are outside The Golf Code to help you run your course. For example, food safety policies to help the clubhouse or the Pro Shop. Why take risks on things like that when your reputation on the line?
Like to see a demonstration of QuickLinks?
Call Matt on 0414 714 077
You can also take a look at some videos of QuickLinks in action below.
Using QuickLinks already?