The one stop compliance shop for the turf industry
The Turf Plus System provides the highest level of assurance to turf growers, customers and end-users that the supplied turf is of the highest quality and certified true-to-type.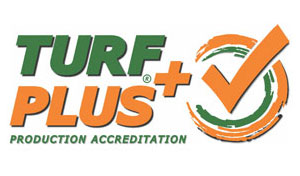 Turf Plus is an industry-acknowledged accreditation program servicing the turf production industry of Australia.
It covers five crucial aspects of production and operations, aligning these with best practice standards.
Quality Turfgrass
Today's turf growers are often involved in specific true-to-type, contaminant-free turfgrass production of Plant Breeders Rights (PBR) and other licensed grasses under strict propagation and growing-conditions like TurfCert.
Environmental controls
Aspects of turf growing can involve intensive farming operations and appropriate Environmental Management processes are necessary to maintain good standards of stewardship.
Logistics / Transport
New laws around Chain of Responsibility (CoR) in transport are important in the delivery of turf to site. Being a perishable product, the process needs to take place efficiently, safely and within critical timelines. Turf Plus allows for such activities to be carried out safely and legally whilst delivering the turf to the customer in peak condition.
Work, Health & Safety
WHS management is critical in on-farm and on-site operations. Many growers are involved right along the whole chain of turf installation from design and construction, through to delivery and installation and even post-installation and ongoing maintenance work. With Turf Plus growers can meet all their safety obligations in a simple, practical way.
Industrial Relations & Human Resources
The IR / HR module provides turf growers and employers with all the policies, procedures and forms they need to complete employment cycle from hiring through to termination. It provides a wealth of material to assist in everyday operations through to one-off scenarios and keeps abreast of current State and Federal Employment Legislation.
Collaboration with the Turf Industry
GrowEQ worked with Turf Plus to design and develop this unique and revolutionary system, which provides all the policies and procedures required to cover all of the above areas of compliance.
Additionally, it utilises a bespoke software system that:
Is accessible on any mobile device or computer.
Contains all the Turf Plus policies and procedures in a location accessible to all.
Can be used to assign ANY task to any employee in seconds.
Automatically reminds staff of the tasks they need to complete ensuring that nothing is forgotten.
Makes record keeping a breeze.
Reduces paperwork saving time, money, and frustration.
Frees up your time.
Delivers bottom line benefits.
The Turf Plus System comes with:
Implementation Assistance
We'll set up the software, show you how to use it, and help you implement the Turf Plus System.
Policies &
Procedures
That we keep up-to-date as legislation and the needs of the turf industry change.
Training for
all levels
In how to use the Turf Plus System, the software, and more. For users of all levels.
Personal Ongoing Assistance
If you have any questions at all, we'll be there to answer them for you.