Unlock your improvement potential with easy-to-follow processes developed, shared and applied by teams every day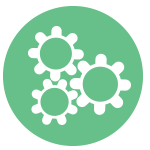 Smarter Processes. Good For Business.

Promapp is process management software that helps companies build, improve and share their process knowledge from a central online repository.  Designed with the everyday user in mind, Promapp makes processes easy to understand and easy to update – simplifying process mapping so business teams can own and improve their own processes.
Business processes are a key knowledge asset of your organisation. This asset must be easy to use, own, manage, and improve by your business teams to increase the value you provide to your customers.
When it comes to process improvement, traditional approaches usually fail to embed the improvements into the daily activities of the organisation. Promapp overcomes this through its central repository of easily accessible process, procedure and associated content that is easily understood by end business users and which promotes process ownership and accountability.
"Enterprises that put processes front and centre consistently outperform those that don't. They're quicker to adapt to changing business conditions. They're more responsive to their customers, and they're seizing opportunities that are lifting revenue and profitability to a whole new place." Gartner
See how Promapp helped Transdev Auckland achieve five international standards in less than 12 months, and unleash a culture of improvement.
See more client examples or take a closer look at Promapp at www.promapp.com.