Getting ISO certification may seem complicated at first, but it basically comes down to clarifying your essential business processes and procedures, then streamlining them to be both straightforward and effective. That's how an ISO management system maximises your business performance and ensures continuous improvement.
So let's apply the same principle to simplifying the ISO certification process itself. As this infographic shows, it can be broken down into 10 straightforward steps – and that's whether your focus is on Quality, Safety, Environment, Food Safety, or any other ISO standard.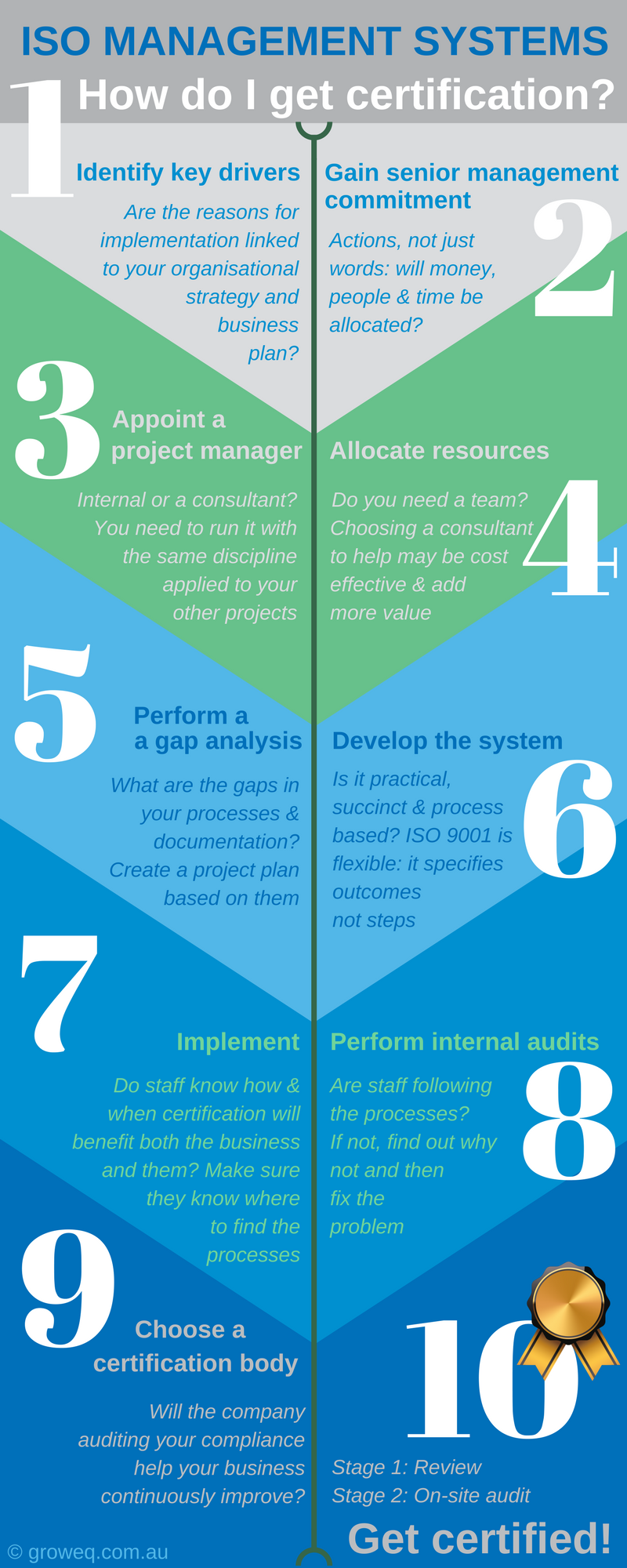 Here's some more detail:
Identify Key Drivers

Identify, with your senior management team, your key drivers (reasons) for implementing a Quality Management System. These should be linked to your organisational strategy or business plan.

Gain Senior Management Commitment

Senior managers need to provide resources – money, people, time – AND they need to visibly demonstrate their commitment through their actions, not just words. As with any other initiative, this one will fail without senior management commitment.

Appoint a Project Manager

Developing an ISO Management System and getting certified is a project. Appoint an internal project manager or use a consultant. Then run it with the same discipline you would apply to any other project.

Allocate Resources

Depending on the size of your organisation you may need an implementation team. It may also be cost effective to use a consultant to help develop the system. Choose one who will develop a bespoke system that adds value to your organisation.

Perform a Gap Analysis

Every organisation has processes and documentation that are relevant to a Management System, and gaps too. Find out what these are and create a project plan based on them.

Develop the System

An ISO Management System is a framework that makes good business sense. It specifies the outcomes you need to achieve, but not how to achieve them. Consequently, there is considerable freedom in meeting the requirements of the standards. Make it practical, succinct, and process based. This is a great opportunity to improve. Consider using software.

Implement

All staff need to know why you are seeking certification, as well as when and how it will benefit them. Staff also need to understand the processes they should be following and where to find them. Implement as you go, don't leave it all until the end.

Perform Internal Audits

Once you've trained staff in the processes relevant to them, it makes good business sense to check that they are actually following them. If not, find out why not and fix the problem.

Choose your Certification Body

The certification body is the company that will audit your Management System and decide if it is compliant with ISO requirements. Choose wisely, you want a certification body that helps you to continuously improve your processes and hence add value to your organisation.

Get Certified

There are 2 stages to a certification audit. Stage 1 – a review of your processes to check that they meet the requirements of ISO Management Systems. Stage 2 – the on-site audit where they check that you follow your own processes.
For more on ISO certification, check out the following GrowEQ articles: